Cheap Biman Bangladesh Airlines Tickets and Reservations
Make a Booking and Find Some Amazing Deals
---
About Biman Bangladesh Airlines
Biman Bangladesh Airlines is a Bangladeshi airline and also the national airline of the country. The airline is popularly known as Biman or in some cases Biman Bangladesh.
The airline's main hub is at Shahjalal International Airport (DAC) in Dhaka and it also operates flights from its secondary hubs at Shah Amanat International Airport (CGP) in Chittagong and Osmani International Airport (ZYL) in Sylhet.
Biman Bangladesh Airlines provides scheduled passenger and cargo services to its destinations; as of April 2015, it has air service agreements with 42 countries but flies to just 16 of them. The carrier is currently facing stiff competition from a number of domestic Bangladeshi private airlines as well as some international carriers, which offer greater flexibility targeting Bangladesh's air transport sector which is experiencing an 8% annual growth rate, thanks to a large number of tourists and non-resident Bangladeshi travellers. The airline was founded in February 1972 after East Pakistan now officially known as Bangladesh gained independence from West Pakistan, Biman enjoyed an internal monopoly in the aviation industry of Bangladesh until 1996.
Bangladesh Airlines operates flights to 29 international destinations at its peak, extending from New York City in the west to Tokyo in the east. They now operate passenger services to 18 international destinations in Asia and Europe. It goes to most of the destinations directly or via a stopover. Convenient transfer connections from Dhaka to regional destinations are easily available.
Biman Bangladesh Airlines fleet consists of 21 aircraft including Boeing 737 Boeing 777, Boeing 787 and De Havilland Canada Dash 8.
Looking for flights within Bangladesh? Biman Bangladesh Airlines operates scheduled passenger flights within Bangladesh.
---
Biman Bangladesh Airlines Destinations
Biman Bangladesh Airlines flies to many destinations including London, Kuwait, Dammam, Doha, Riyadh, Jeddah, Muscat, Dubai, Abu Dhabi, Kathmandu, Kolkata, Dhaka, Jessore, Rajshah, Sylhet, Saioput, Barisat, Chittagong, Co's Baxar, Kuala Lumpur, Singapore, Bangkok and Yangon. Biman Bangladesh Airlines has hubs in Chittagong and Sylhet (Osmani International Airport (ZYL) and as well as the regular leisure, business and cargo business, Biman Air's operations are the Hajj flights that it runs to and from Mecca in Saudi Arabia.
As of December 2021, Biman served 8 domestic and 17 international destinations across 13 countries in the Middle East, some destinations in South and South East Asia and London in Europe. However, it has air service agreements with 43 countries in the future. Biman has been the only Bangladeshi airline allowed by the government to offer flights for pilgrims to King Abdulaziz International Airport (JED) in Jeddah.
Biman Bangladesh International Destinations
| COUNTRY | CITY | AIRPORT |
| --- | --- | --- |
| China | Guangzhou | Guangzhou Baiyun International Airport (CAN) |
| Hong Kong | Hong Kong | Hong Kong International Airport (HKG) |
| India | Delhi | Indira Gandhi International Airport (DEL) |
| India | Kolkata | Netaji Subhash Chandra Bose International Airport (CCU) |
| Kuwait | Kuwait City | Kuwait International Airport (KWI) |
| Malaysia | Kuala Lumpur | Kuala Lumpur International Airport (KUL) |
| Qatar | Doha | Hamad International Airport (DOH) |
| Malaysia | Kuala Lumpur | Kuala Lumpur International Airport (KUL) |
| Nepal | Kathmandu | Tribhuvan International Airport (KTM) |
| Oman | Muscat | Muscat International Airport (SOH) |
| Saudi Arabia | Dammam | King Fahd International Airport (DMM) |
| Saudi Arabia | Jeddah | King Abdulaziz International Airport (JED) |
| Saudi Arabia | Medina | Prince Mohammad bin Abdulaziz International Airport (MED) |
| Saudi Arabia | Riyadh | King Khalid International Airport (RUH) |
| Singapore | Singapore | Singapore Changi Airport (SIN) |
| Thailand | Bangkok | Suvarnabhumi Airport (BKK) |
| United Arab Emirates | Abu Dhabi | Abu Dhabi International Airport (AUH) |
| United Arab Emirates | Dubai | Dubai International Airport (DXB) |
| United Kingdom | London | London Heathrow International Airport (LHR) |
| United Kingdom | Manchester | Manchester Airport (MAN) |
Domestic Destinations
Biman flies to all major cities, as well as numerous smaller airports, across Bangladesh:
| Province/Region | Airport |
| --- | --- |
| Barisal | Barisal Airport (BZL) |
| Chittagong | Shah Amanat International Airport (CGP) (HUB) |
| Cox's Bazar | Cox's Bazar Airport (CXB) |
| Dhaka | Shahjalal International Airport (DAC) (HUB) |
| Jessore | Jessore Airport (JSR) |
| Rajshahi | Shah Makhdum Airport (RJH) |
| Saidpur | Saidpur Airport (SPD) |
| Sylhet | Osmani International Airport (ZYL) (HUB) |
---
Baggage Allowance
Checked Baggage
Biman Bangladesh entitles passengers to 30kg of checked baggage for Business Class, 20kg for Economy Class and 10kg for infants.
In Business Class, the 30kgs is limited to a maximum of two pieces. The sum of the 3 dimensions (length + breadth + height) must not exceed 62 inches or 158cm for each piece. The maximum weight permissible for a single piece of baggage is 30 Kgs.
In Economy Class, the free baggage allowance of 20Kgs is limited to a maximum of two pieces.
Carry-on Baggage
Each passenger is entitled to one piece of carry-on baggage, either a handbag or laptop with a maximum weight of 7kg in economy whereas 10kg in business class. The sum of the 3 dimensions (length + width + height) should not exceed 115cm.
---
Check-in
Online Check-In
Web check-in is available from 24 hours before your flight up until six hours before.
Airport Check-In
For passengers wishing to check-in at the airport instead of online, or for passengers travelling a route that is not yet available for online check-in, they must report at the airport check-in desks. Biman advises that passengers should arrive at the airport 3 hours before flights.
---
Economy Class
Economy Facilities
Biman's Economy class offers an affordable fare, giving you the flexibility to decide which extras you need onboard.
When you select the affordable economy services you will discover everything in the price. You can also stay entertained with Bimans inflight magazine called the Bihanga offering information about Bangladesh. From September 2018, Biman Bangladesh Airlines brought out WiFi connectivity, movie and live TV streaming services. As of March 2017, the airline began offering new and varied meal and beverage choices in its flights, as well as special meals such as diabetic and children's meal packages, which gets reviewed every 3 months. All Biman's meals served on-board are Halal.
What are Biman's Economy seats like?
With Biman's s standard, passengers can recline in the airline's original seating. Biman has 2 large economy cabins on the 777 and 787-8, with seats in a 3-3-3 arrangement. The seat pitch is 32 inches and the seat width is 17 inches.
---
Business Class
Business Class Facilities
With business class, you can enjoy the highest comfort. Enjoy Biman's new Boeing 777 aircraft and its unique service with premium meal, beverages and you can stay entertained with Bimans inflight system that has a range of movies available as well as games.
What are Business Class seats like?
Sit back and relax with maximum legroom in more spacious seating with a generous recline. Biman's Boeing 777 are arranged in a 2–3–2 configuration.
---
Entertainment
The airline has inflight entertainment installed on its long-haul aircraft. Each seat aboard the Boeing 787 and 777 aircraft have personal seatback inflight entertainment screens. The airline offers passengers the latest Hollywood and Bollywood movies and TV series to keep you entertained during your flight.
---
Wifi
Biman Bangladesh does have Wifi facilities on certain aircraft within their fleet. On the airlines, Boeing 787-8 aircraft Wifi has been installed for passengers, with the first 10MB of data being free of charge. However, if you wish to purchase more data then this is possible. The prices for the various packages are as followed:
100MB = 8 USD
300MB = 16 USD
600MB = 24 USD
---
Food & Beverages
Complimentary food and beverages are provided by Biman Bangladesh on their long haul flights. Depending on the time of your flight you will receive an altered catering service. If travelling on one of the airlines morning flights then you will receive fresh juices, croissants with preserves and a light main such as an omelette. During afternoon and evening or night flights, passengers will receive a salad, main dish such as a fragrant lamb curry and dessert as well as complimentary drinks. All food onboard the aircraft is halal. Passengers travelling in a premium cabin will receive an elevated meal service.
---
Frequent Flyer Program
Biman Bangladesh Airlines has a Frequent Flyer Program with tiered benefits, lots of special offers and mileage rewards earned on every Biman flight.
Biman Loyalty Club members can now earn miles for the bookings class and the number of miles of travelled on all Biman operated flights for the following categories: Domestic Flights - 100 miles, London, Rome, Frankfurt - 5000 miles, Bangkok and Delhi - 1000.
There are three tiers to the frequent flyer program: Green Member, Silver Member and Gold Member.
Green Members: This is open and free membership for everybody with no minimum requirements.
Gold members: members receive the best seats on the aircraft and if possible an empty seat next to you. Advanced seating reservation can be chosen to allow you to select the right seat before check-in. In order to qualify for a Gold Membership, you need to have 75,000 miles per year. To maintain Gold status you will need to fly 75,000 miles. You will receive a Gold welcome pack with exclusive present and invitations to VIP events, new personal Gold card, two personal baggage cards and a welcome letter from the CEO.
Silver members: For the Silver Member, You need to have 50,000 miles per year to become a Silver Biman Loyalty Club member. You will receive a personal Silver card and a letter from the CEO. To maintain Silver status you will need to fly 50,000 miles.
---
Biman Bangladesh Airlines Fleet
As of December 2021, Biman Bangladesh Airlines operates a fleet of 21 of the following aircraft:
Onboard the Boeing 787-8 aircraft, passengers with roaming functionality on their smartphones will also be able to call and text devices on the ground through satellite connectivity.
---
Special Services
Biman offers a number of special services to its passengers. Please see below the following services it offers:
Wheelchairs
Wheel Chair facilities are available on both arrivals and departures but need to be requested at the time of reservation. You can request this service by getting through to the airline's offices; or the Alternative Airlines customer service team if you have booked through our website. For more information on this please see our wheelchair assistance page.
Unaccompanied Minor
This service is available both at arrivals and departures but needs to be requested during reservation.
---
Hub Airport
Hazrat Shahjalal International Airport
Hazrat Shahjalal International Airport (DAC) is the largest airport in Bangladesh. Operated and maintained by the Civil Aviation Authority, Bangladesh, it is also used by the Bangladesh Air Force. Located in Kurmitola in northern Dhaka, it started operations in 1980, taking over as the country's sole international airport from Tejgaon Airport. It is the hub of all Bangladeshi airlines, including Biman Bangladesh Airlines, Regent Airways, Novoair and US-Bangla Airlines. Airlines that fly from and to Hazrat Shahjalal International Airport (DAC) include Etihad Airways, Emirates and many more.
---
Route Map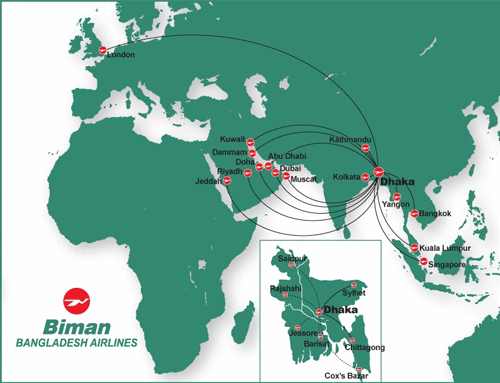 ---
Alternative Airlines to Biman Bangladesh Airlines
---
Airline Alliance
Biman Bangladesh Airlines is currently not part of any airline alliances.
---
Aviation News Banladesh
28th October 2019
Flights to resume from Sylhet to London in 2020
After eight years, a direct flight operation of Biman Bangladesh Airlines from Sylhet to London is will resume in April 2020.
28th October 2019
Direct flights to begin from Chattogram to Medina
One flight every Thursday will fly from Chattogram Airpor (CGP) to Prince Mohammed Bin Abdulaziz International Airport (MED).
16th October 2019
Flights to resume from Dhaka to Manchester
The airline has decided to resume its Manchester flight three times a week and it's scheduled to start in January 2020.