Hahn Air Reservations with Alternative Airlines
Make a Hahn Air Booking and Find Some Amazing Deals
You can now buy Hahn Air tickets with Alternative Airlines
---
About Hahn Air
As an international air travel company and a member of the International Air Transport Association (IATA), Hahn Air Lines regularly operates domestic and international scheduled and charter flights using ultra-modern Cessna business jets. The company's core business is a ticketing solution that gives travel agencies access to airlines via computer reservations systems and allows them to issue on the Hahn Air HR-169 document.
Hahn Air Lines is inspected by IATA every two years for compliance with IOSA standards and recommended practices, which is a requirement for all IATA member airlines. Although not well known to the general public, it is a globally connected stakeholder playing a leading role in the airline distribution industry.
The Hahn Air Group is an international corporation based in Dreieich near Frankfurt, Germany, while the Hahn Air Lines' fleet operates out of Dusseldorf Airport (DUS). The Group has offices around the world, including Minneapolis, Johannesburg, Montevideo, Casablanca, New Delhi, Paris and Manila. Hahn Air has signed contracts with more than 300 air, rail and shuttle partners and has been offering charter flights since 2004. Hahn Air also offers scheduled flights between Dusseldorf and Luxembourg and internationally, over 100,000 travel agencies use Hahn Air's services. The purchase of a Cessna Citation Sovereign in 2015 has helped to extend its reach to medium and long-distance routes.
Today, Hahn Air is capable of serving 1,500 airports worldwide.
In 2015, Hahn Air supported Interline Electronic Miscellaneous Documents (IEMDs) enabling interline partners to sell ancillary services in markets where they have not joined the local settlement system (BSP).
---
The Fleet
Fleet operates from Düsseldorf Airport (DUS), with plans to operate from Egelsbach Airport (QEF) in Frankfurt in the future. Hahn Air took delivery of a second Cessna Citation Sovereign, which replaces one of its two Cessna Citation Jet 4's in 2016.
---
Destination
As of October 2019, Hahn Air offers scheduled flights within Europe.
| AIRPORT | CITY AND COUNTRY |
| --- | --- |
| Düsseldorf Airport (HUB) | Düsseldorf, Germany |
| Luxembourg Findel Airport | Luxembourg, Luxembourg |
| Palma de Mallorca Airport (Seasonal) | Mallorca, Spain |
---
Baggage
Baggage policy will depend on which airline is operating the Hahn Air flight. You can check the baggage policy of the airline you're flying on through the
airlines we can ticket page and click on the airline you're flying with.
Carry on Baggage
Carry on baggage for Hahn Air flights is 1 piece with a maximum size of 55cm x 40cm x 20cm, at 7kgs.
Checked Baggage
Passengers in Business Class can take 1 piece up to 32kgs or 2 pieces at a combined weight of 32kgs.
Economy Class passengers are allowed 1 piece of baggage of up to 20kgs.
---
Hahn Air Airlines
Airlines that operate under Hahn Air and can be booked through Alternative Airlines include Adria Airways, Aerolink Uganda, Air Timor, Ernest Airlines and many more.
---
Hahn Air Check-In Information
Check-in times and whether passengers can check-in online or need to check-in at the airport will vary depending on which airline is operating the Hahn Air flight. If you are flying from Düsseldorf to Luxembourg, you can check-in at the counter at Düsseldorf airport which opens 75 minutes before departure.
Check-in at Luxembourg is carried out by Luxair.
Visit the airlines we can ticket and click on the airline that is operating your Hahn Air flight to view that airline's check-in policy.
---
Executive Class
The airline's Economy Class service is simple but offers great value.
Executive Class Facilities
Meals are prepared with a unique culinary experience to suit your tastes and desires. Meals such as soda, sushi, seafood or sandwiches are served once the flight has taken off and the aircraft is airborne. Hahn Air's jets are built-in with an inflight entertainment system that allows you to listen to your music or watch films. Passengers can also make phone calls via the airline's satellite phone.
Executive Class Seats
Economy Class seats are large and made of genuine leather for maximum comfort. The cabin has the capacity of 6 seats, laid out in a 2 x 2 formation.
---
Hub Airport
Düsseldorf International Airport
Hahn Air is based at Düsseldorf International Airport. Düsseldorf is the capital of the German state of North Rhine-Westphalia. The airport has two runways and is also the hub for Eurowings and serves several other airlines including SunExpress Deutschland and Lauda.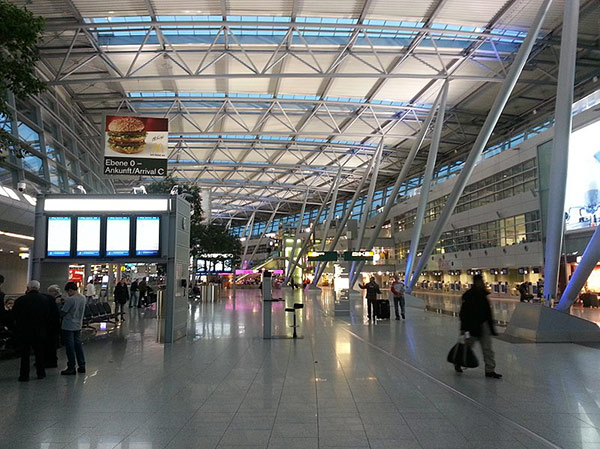 Credit: Wikimedia Commons
---
Wi-Fi Connectivity
The airline does not have any in-flight Wifi (Paid or Free) in any of its flights.
---
Frequent Flyer Program
The airline currently doesn't have a frequent flyer program.
---
Airline Alliance
The airline is currently not part of any alliances.
---
Special Services
The airline currently doesn't have any information on the special services it offers.
---
Hahn Air News
20th June 2018
Hahn Air adds Sunwing to global network through new interline agreement
Hahn Air has signed an interline agreement with Sunwing Airlines, allowing travel agents to access more vacation options through eight GDSs.
The German airline announced that it has activated ticketing on the HR-169 document for Sunwing Airlines, which means that Sunwing can now be booked in Abacus, Amadeus, Apollo, Galileo, Infini, Sabre, Topas and Worldspan GDSs under its own code and issued on Hahn Air's insolvency-safe ticket worldwide.
With this new agreement, Sunwing joins Hahn Air's network of over 350 air, rail and shuttle partners.
"We are pleased to finalise this agreement with Hahn Air that will now mean we can offer our wide range of flights to the sun to an increased audience both in Canada and in our destinations," said Andrew Dawson, President of Tour Operations.
Steve Knackstedt, Hahn Air's Vice President of the Airline Business Group, added: "We're happy to help Sunwing optimise its distribution strategy and offer wider exposure through eight Global Distribution Systems. Now travel agents, who wouldn't otherwise be able to access services of this major player in the field of leisure travel, can offer their customers additional vacation options, generating incremental business for Sunwing."
28th February 2018
Hahn Air Group: Unprecedented network growth in 2017
Reporting network growth of over 16%, the year 2017 proved successful for the Hahn Air Group. Despite the challenging times for the industry, the distribution specialist integrated a total of 46 new carriers into its network of air, rail and shuttle partners, enabling them to be ticketed on the Hahn Air HR-169 document in over 190 markets. To date, more than 350 partners take advantage of the group's ticketing solutions that provide the missing links in airline distribution via Global Distribution Systems (GDSs) worldwide.
Last year alone, the HR-169 product was chosen by 29 additional partners. Airlines that signed an interline agreement with Hahn Air, such as Flair Airlines (F8) from Canada or La Compagnie (B0) from France, enhanced their distribution strategy to include ticketing on the HR-169 document under their own designator. One unique partner is the UK-based high-speed rail operator Eurostar (9F). By joining Hahn Air's partner network, it became the first and only Hahn Air rail partner to use the HR-169 product.
Hahn Air Systems, a subsidiary of the Hahn Air Group, also recorded expedited expansion with 17 new partners. The majority of new additions, such as Jeju Air (7C) from South Korea and Citilink (QG) from Indonesia chose its H1-Air product, which allows their distribution in all major GDSs under the H1 two-letter code. Tallink (1TL) from Estonia, the second ferry partner to take advantage of Hahn Air Systems' other product, specifically 5W-Rail&Shuttle, was introduced in March 2017.
Additionally, eight airlines joined the list of Dual Partners, reaffirming the growing trend of airlines trying to expand their commercial reach by taking advantage of more than one product by the Hahn Air Group. Among the new Dual Partners are, for example Beijing Capital Airlines (JD) from China, FlySafair (FA) from South Africa and NokScoot (XW) from Thailand.
Hahn Air's General Manager, Nikolaus Gormsen, commented, "Both Hahn Air and Hahn Air Systems have been striving to offer quality products and customer service that's tailored to the needs of all our partners, no matter their business model and size. The fact that we've achieved a turnover of 1 billion USD for our clients speaks volumes for the popularity of our ticketing solution and directly reflects our dedication to both sides of the customer spectrum. Propelled by the 2017 results, we look forward to continuing our mission in 2018 and creating additional business opportunities for air, rail and shuttle companies as well as travel agents worldwide."
---