Search and Buy Cheap LIAT Flights with Alternative Airlines
Make a Booking and Find Some Amazing Deals
---
LIAT Update
LIAT is currently in a process of re-launching, with a limited number of commercial flights resuming from November. The airline had entered administration in July 2020, with all flights temporarily suspended.
If you're looking to book flights around the Caribbean, take a look at our full guide to flying within the Caribbean, which includes an airline guide, popular routes, and FAQs. Or, you can follow the links below to take a look at our recommended alternative airlines below, to discover airlines that operate similar routes to the ones which were provided by LIAT - when the airline was at full capacity.
---
About LIAT
LIAT (Leeward Islands Air Transport) is an airline headquartered on the grounds of V. C. Bird International Airport in Antigua, with a base at Grantley Adams International Airport, Barbados. LIAT operates high-frequency inter-island scheduled services to a number of destinations in the Caribbean.
The airline was founded in 1956, beginning flights soon after between Antigua and Montserrat. Within the subsequent 10 years, the airline gained new shareholders, meaning it was able to expand its routes around the Caribbean with new aircraft types. In 2007, LIAT announced a merge with Caribbean Star Airlines, combining their schedule and flying under the LIAT brand.
The airline is owned by seven Caribbean governments, with the major shareholders being Barbados, Antigua & Barbuda and St. Vincent and the Grenadines.
---
Destinations
Before entering administration and suspending operations, LIAT operated scheduled flights to the following destinations in the Caribbean and also in South America. Previously the destinations of LIAT have included Curaçao, Venezuela, Saint Croix (US Virgin Islands) and Kingstown and Charlestown (Saint Vincent and the Grenadines).
As of November 2020, the airline is restarting, but will be operating a reduced network. The following is a list of destinations that the airline flew to when it was at full capacity.
| COUNTRY | CITY | AIRPORT |
| --- | --- | --- |
| Antigua and Barbuda | St. Johns | VC Bird International Airport (ANU) |
| Barbados | Seawell, Christ Church | Grantley Adams International Airport (BGI) |
| British Virgin Islands | Tortola | Terrance B. Lettsome International Airport (EIS) |
| Dominica | Roseau | Douglas–Charles Airport (DOM) |
| Grenada | St. George's | Maurice Bishop International Airport (GND) |
| Guadeloupe, France | Pointe-à-Pitre | Pointe-à-Pitre International Airport (PTP) |
| Martinique, France | Fort-de-France | Martinique Aimé Césaire International Airport (FDF) |
| Sint Maarten | Philipsburg | Princess Juliana International Airport (SXM) |
| Puerto Rico | San Juan | Luis Muñoz Marín International Airport (SJU) |
| Saint Kitts and Nevis | Basseterre, Saint Kitts | Robert L. Bradshaw International Airport (SKB) |
| Saint Lucia | Castries | George F. L. Charles Airport (SLU) |
| Saint Vincent and the Grenadines | Kingstown | Argyle International Airport (SVD) |
| Trinidad and Tobago | Port of Spain, Trinidad | Piarco International Airport (POS) |
| United States Virgin Islands | Saint Thomas | Cyril E. King Airport (STT) |
| Guyana | Georgetown | Ogle Airport (OGL) |
---
Route Map
Please consult the Liat Airlines route map below for an outline of Liat's destinations: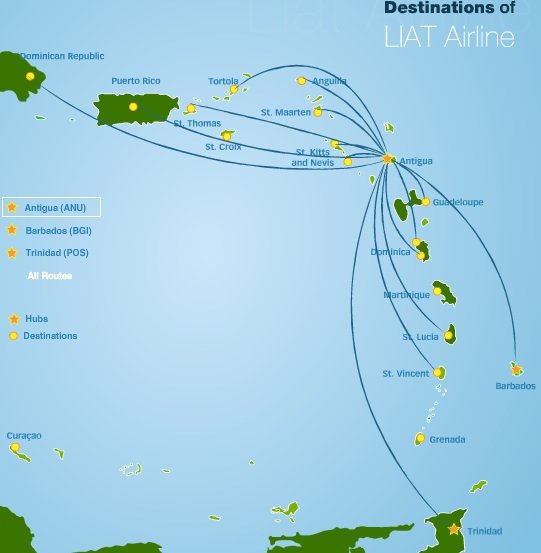 ---
Baggage Allowance
Carry-on Baggage
Passengers are allowed one item of cabin baggage, weighing a maximum of 7kgs. This item must not exceed the maximum dimensions of 53 x 35 x 20cm. In addition, passengers are permitted a small personal item such as a book, small handbag or backpack or coat.
Checked Baggage
The free baggage allowance for all LIAT services is 1 piece, weighing a maximum of 23 kgs. This item must not exceed the maximum linear dimensions (length + width + height) of 157cm. Infants ticketed as part of an adult's itinerary do not qualify for this free baggage allowance.
---
Class Information
Economy Class
Economy Class is the only cabin class that the airline offers. The Economy Class service is carried out by the airline's trained cabin crew, who were dedicated to giving each passenger a safe and relaxed journey.
- Facilities
Depending on the length of the flight, passengers might be able to order light snacks and soft drinks from the airline's in-flight menu.
- Seats
Seats are set out in a 2 x 2 configuration. Each seat roughly had 17 inches of width and 30 inches of pitch.
Premium Economy
There is currently no premium economy service on this plane.
Business Class
LIAT doesn't have a business class onboard their planes.
First Class
There is no first-class cabin on LIAT planes.
---
In-Flight Entertainment
Although the airline doesn't have an in-flight entertainment system, it does offer entertainment in the form of its in-flight magazine. Each passenger is given a copy of the airline in-flight magazine, which can be found in the back pocket of the seat in front.
---
Food
Because of the short duration of most of LIAT's flights, there is no food service included in the cost of the ticket. However, on some services, there may have the opportunity to purchase snacks and drinks. Alternatively, passengers can bring their own food onto the plane, as long as it complied with the rules and regulations.
---
WiFi
There is no onboard WiFi offered by LIAT.
---
Check-In Information
Online Check-in
Online check-in isn't available via the airline website. All passengers must check-in at the airport.
Airport Check-in
Passengers are recommended to arrive at the airport at least 2 hours before their flight is scheduled to depart. The check-in desks close 45 minutes before departure. Seats are assigned at check-in on a first-come-first-served basis, so families who wished to be seated together had to arrive as early as possible.
Passengers should report to the airline check-in counters as soon as they arrive at the airport. The airline check-in counters should be labelled with the airline name and logo. If passengers fail to meet the check-in deadline may be refused to board.
---
LIAT Frequent Flyer
There is no frequent flyer program associated with LIAT.
---
Airline Alliance
LIAT Airlines had partnership alliance with Virgin Atlantic and JetBlue Airways, as well as former codeshare agreement with Carib Aviation and BWIA West Indies Airways.
---
LIAT Special Services
Unaccompanied Minor
LIAT provides an unaccompanied minor service for children flying by themselves.
Pets and Service Animals
Pets and animals can be transported as checked luggage only. For more information on the documents and clearances you need for transporting animals, check here.
---
Hub Airport
Grantley Adams International Airport
Grantley Adams International Airport is located in Seawell, Christ Church on the island of Barbados. It is Barbados' only international airport and acts as one of the major gateways of the Eastern Caribbean. It is also the only designated port of entry for air passengers arriving and departing the country.
The airport was formerly called Seawell Airport, until 1976 when it was dedicated in honour of the first Premier of Barbados, Sir Grantley Herbert Adams.
Airlines that fly from and to Grantley Adams International Airport include WestJet, Virgin Atlantic, Caribbean Airlines and Air Canada Rouge.
---
Fleet
LIAT used to operate a fleet of Dash 8 aircraft but in 2016, the airline transitioned its aircraft to all ATR aircraft including the ATR42 and ATR72 aircraft. ATR42 and ATR72 aircraft are both twin-turboprop aircraft.
---
Alternative Airlines
Please click on the logos below to find out more about airlines that operate similar routes:
---
News
29.10.2020
LIAT to relaunch
The Caribbean regional airline, LIAT, is currently in administration, but is set relaunch in November 2020. This news was made in a statement by the Office of the Prime Minister of Antigua and Barbuda. The airline will be restarting regular commercial schedules to a limited number of destinations. The first flight will be from Antigua to Dominica Douglas-Charles.