Peruvian Airlines Reservations with Alternative Airlines
Make a Peruvian Airlines Booking and Find Some Amazing Deals
Peruvian Airlines ceased operations in 2019.
Looking to fly domestically within Peru? Please click on the logos below to find out more about airlines that operate similar routes to the ones that were provided by Peruvian Airlines before the airline suspended flights.
---
Peruvian Airlines Update
Peruvian Airlines went into liquidation on the 4th October 2019. All flights from the 4th October 2019 have been suspended until further notice. If you have made a Peruvian Airlines booking through Alternative Airlines, you can contact our customer service team to find out more. Our advice page also provides more information for when airlines suspend operations.
You can take a look at our alternative airlines below to discover airlines that operate similar routes.
---
About Peruvian Airlines
Peruvian Airlines was founded in 2007 and began operations in October 2008. The suspended operations on the 4th October 2019, citing liquidation as the cause.
---
Destinations
Peruvian Airlines flew to many destinations across Peru, including Arequipa, Cuzco, Iquitos, Lima, Piura, Tacna, Pucallpa, Tarapoto and La Paz. The airline had been working towards providing flights to international destinations such as Iquique, La Paz, Guayaquil, Caracas and La Habana.
Before suspending flights, the airline served the following domestic destinations:
| COUNTRY | CITY | AIRPORT | IATA |
| --- | --- | --- | --- |
| Arequipa | Peru | Rodríguez Ballón International Airport | AQP |
| Cusco | Peru | Alejandro Velasco Astete International Airport | CUZ |
| Ilo | Peru | Ilo Airport | ILQ |
| Iquitos | Peru | Coronel FAP Francisco Secada Vignetta International Airport | IQT |
| Jauja | Peru | Francisco Carle Airport | JAU |
| La Paz | Bolivia | El Alto International Airport | LPB |
| Lima | Peru | Jorge Chávez International Airport | LIM |
| Piura | Peru | FAP Captain Guillermo Concha Iberico International Airport | PIU |
| Pucallpa | Peru | FAP Captain David Abensur Rengifo International Airport | PCL |
| Tacna | Peru | Coronel FAP Carlos Ciriani Santa Rosa International Airport | TCQ |
| Tarapoto | Peru | Cadete FAP Guillermo del Castillo Paredes Airport | TPP |
| Tumbes | Peru | FAP Captain Pedro Canga Rodríguez Airport | TBP |
---
Baggage Allowance
Carry-on Baggage
Peruvian Airlines passengers are permitted a carry-on baggage allowance of 8kg.
Checked Baggage
All passengers that travel with Peruvian Airlines are entitled up to two pieces of checked baggage with a total weight of 20kg. Please note that Peruvian Airlines has a strict hand luggage allowance on flights to Cusco of 5kg. You can also add extra baggage to your booking - find out more here.
---
Check-In Information
Online Check-In
Online check-in is available from 48 to 3 hours before your Peruvian Airlines flight. Please be aware that once online check-in for your Peruvian Airlines flight has been completed, the flight cannot be cancelled. Online check-in is not available for passengers travelling with infants, unaccompanied minors or those in need of special assistance.
Airport Check-In
Passengers also have the option to check-in at the airport; it is recommended to arrive with plenty of time. The airline recommends checking in 3 hours before the flight departure.
---
Economy Class Information
Peruvian Airlines offers one cabin class: Economy. The airline has recently upgraded its Boeing fleet to allow a better in-flight service and comfort within the cabins.
Snacks, light meals, and drinks are available for purchase.
Onboard Entertainment
Flights are short-haul, so have a short duration. There is no personal entertainment system - passengers are able to bring their own electronic devices onboard to watch/play downloaded entertainment. Onboard WiFi is not available.
What are seats like?
Passengers can enjoy comfortable padded seats, with fold-down trays and overhead storage bins.
---
Peruvian Airlines Frequent Flyer Programme
PERUVIAN PASS
'PERUVIAN PASS' is Peruvian Airline's frequent flyer program, created to reward the loyalty of passengers. Each time passengers fly, kilometres can be accumulated and saved to a personal frequent flyer account. These kilometres then enable passengers to obtain Award Tickets free of charge.
Collecting PERUVIAN PASS points
After signing up to the program, passengers will receive a PERUVIAN PASS card, with a personal number which identifies the frequent flyer account. When making a Peruvian Airlines booking through Alternative Airlines, passengers can simply select 'PERUVIAN PASS' as the chosen frequent flyer program when making the booking, and type in the personal membership number in order to collect points.
---
Book Peruvian Airlines Flights in English
Use Alternative Airlines to book your Peruvian Airlines flights in English. You can easily make your Peruvian Airlines reservation in English and also speak with our expert customer service team regarding any queries you may have about your booking.
---
Peruvian Airlines Popular Routes
Lima

Cusco
Arequipa

Lima
Tacna

Lima
Iquitos

Lima
Piura

Lima
Lima

Tarapoto
---
Peruvian Airlines Route Map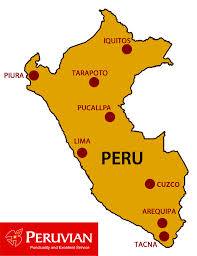 ---
Fleet
The airline operated the following passenger aircraft, before suspending flights in 2019:
| AIRCRAFT TYPE | NUMBER IN FLEET | NUMBER OF SEATS |
| --- | --- | --- |
| Boeing 737-400 | 1 | 176 |
| Boeing 737-500 | 5 | 120 |
| Irkut MC-21 | (10 ordered) | TBC |
| Sukhoi Superjet 100 | (10 ordered) | TBC |
---
Airline Alliance
Peruvian Airlines is not a member of an airline alliance.
---
Peruvian Airlines Hub Airport
Jorge Chavez International Airport
Jorge Chávez International Airport, known as Aeropuerto Internacional Jorge Chávez in Spanish, is Peru's main international and domestic airport. It is located in Callao, 11 kilometres from the Historic Centre of Lima. Callao is the port city now fully integrated with Lima, the nation's capital. Airlines that fly from and to Jorge Chávez International Airport include Avianca, KLM , JetSMART, Iberia, Avior Airlines and TAM airlines.
---
Peruvian Airlines News
06/10/19
Peruvian Airlines suspends all flights and seeks to re-float
Peruvian Airlines suddenly ceased all of its operations on the second of October 2019. Peruvian Airlines has now suspended all flights and closed its offices until further notice. It has stated a lack of liquidity to be the cause.